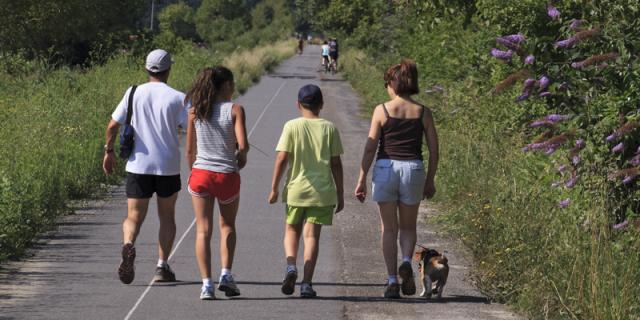 Discover the Gaves Valley Starting
from Lourdes
Roam the great outdoors
Along the river
In 2000, the Gaves Greenway replaced the former railway that once led to Pierrefitte-Nestalas. Awarded Tourisme&Handicap certification in 2005, it gives everyone a chance to discover the Gave de Pau Valley with the Pyrenees mountain range as a backdrop. Add to that the gentle babbling of the Gave de Pau and you have all the ingredients for a lovely day out.
Activities for all
The Gaves Greenway is enjoyed by a variety of users. Rollerbladers and cyclists will find the road surface very suitable for their pursuits. Families with young children can enjoy a walk or discover the joys of a bike ride in total safety. The Gaves Greenway is also a route for competitive cyclists and cycle tourists to reach the legendary climbs of the Pyrenees from Lourdes.
Lourdes - La Voie Verte des Gaves
Lourdes - La Voie Verte des Gaves
Useful info
Plan your visit
Nearby
Activities for families
Lourdes and the surrounding area are ideal for active family holidays. Enjoy a walk or bike ride on our most scenic itineraries.
Take it further
Other places to visit