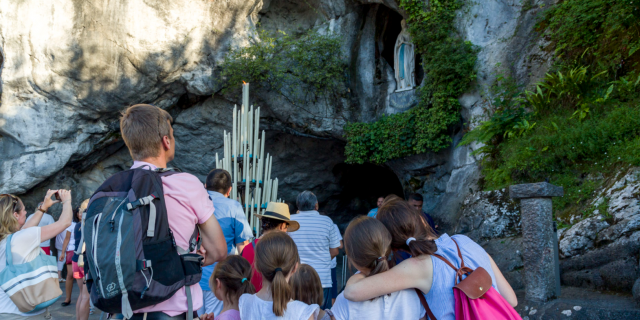 A story of faith…
Step back into history
In 1858, a time when Lourdes had a population of just over 4,000, the Virgin Mary appeared to the young Bernadette Soubirous. On 11 February 1858, Bernadette went to the Massabielle rock, on the banks of the Gave, to gather dead wood. The spot was known as the "pigs' shelter" as it was so dirty and dark. It was there that Bernadette heard a sound "like a gust of wind". Then she saw a lady in the rock, which was the first apparition. 17 others would follow, until 16 July 1858.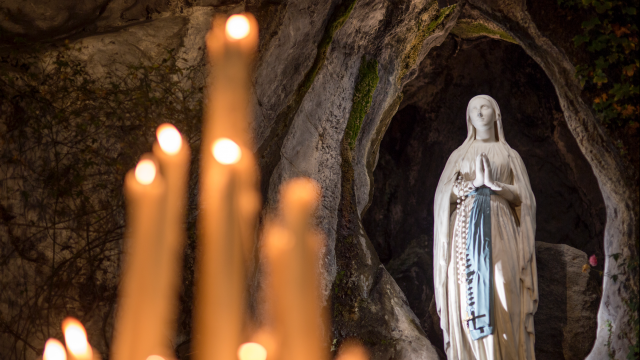 Back to the source…
The Massabielle Grotto is the very place where the apparitions occurred, and within it is the spring that Bernadette discovered. To the right of the Grotto are the Taps where you can drink Lourdes water. Those who wish to can also go to the Sanctuary Baths and perform the water gesture.
Lourdes - la Grotte de Massabielle
Lourdes - la Grotte de Massabielle
Useful info
Plan your visit
The Grotto of Apparitions is located at the following address:
Avenue Mgr Théas
Sanctuaire ND de Lourdes
65100 LOURDES
Parking :

The car park closest to the grotto is located at the top of Boulevard de la Grotte, near Boulevard du Lapacca.
By train
If you are coming by train, Lourdes station is about 2 kilometres away from the sanctuaries.
By bus
Take the L4 and L5 bus
Nearby
Visit the sanctuary
The Sanctuary of Our Lady of Lourdes covers an area of 52 hectares. Within the Domain, you will find 22 places of worship. Some of these gathering places really must be seen if you want to make the most of your visit. From the Massabielle Grotto to the Church of St. Bernadette through the Basilica of Our Lady of the Rosary, set forth to discover the Sanctuary and its history.
Take it further
Other places to visit