An exceptional natural site
At the gates of Lourdes…
Breathtaking scenery
First, imagine the scenery… You are in the heart of the Pyrenees National Park. There, astride the French-Spanish border, is the massif of Mont-Perdu that rises to over 3,000m in altitude. To the south are the extraordinary canyons of Ordesa, Anisclo and Pineta. To their north, the land of cirques with the majestic Gavarnie, Troumouse, the biggest of them all, and Estaubé, the wildest. In 1997, this expanse of over 30,000 hectares was listed as a UNESCO World Heritage Site, in recognition of its natural and cultural riches alike.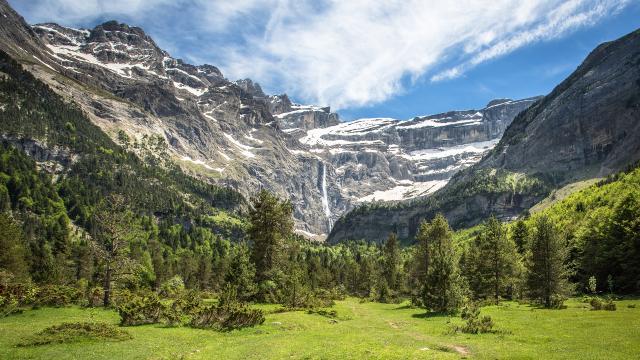 Gavarnie
Birthplace of Pyreneism
Gavarnie has long inspired amazement. Its reputation is built on the various explorations it has inspired. Botanists, scientists, romantics, painters, poets and mountaineers in search of exploits or sensations have, since the 16th century, made Gavarnie the birthplace of what is known as "Pyreneism".
The cirque became legend when Victor Hugo, in his illustrious poem "Dieu", described it as an "impossible and extraordinary object", "the Colosseum of nature". The Pyrenean Museum based in the Château-fort de Lourdes tells the story of Pyreneism.
Gavarnie : le colosse des Pyrénées (Grand Site Occitanie)
Gavarnie : le colosse des Pyrénées (Grand Site Occitanie)
Useful info
Plan your visit
How do I get to Gavarnie from Lourdes by bus?
Feel free to contact us for information on the various options.

Family trip to Gavarnie
a hike accessible to all
Gavarnie is easy to reach. On arrival at the village, you are in front of the rock wall and in 1.5 hours of easy walking, you will be at the foot of the cirque, where the old inn can be found. You can follow this route on foot or horseback: when Gavarnie appears, it truly is a dramatic sight to behold. Less well-known but just as impressive, the cirques of Estaube and Troumouse are accessible to all. From the family walk to a quest for sensation, there is something for everyone.
Take it further
Other places to visit